1.安装
sudo apt-get install blktrace
若显示已经挂在则不必再挂载。否则执行如下指令进行挂载:
sudo mount -t debugfs debugfs /sys/kernel/debug
2.测试参数
安装好以后就是测试了。测试语法如下:
blktrace -d dev [-r debugfs_path] [-o output] [-k] [-w time] [-a action] [-A action_mask] ..
blktrace选项如下:
-r trace文件默认挂载地址为/sys/kernel/debug。-r参数能重新指定挂载地址
-a mask 缺省的为所有的事件都要trace,加入-a参数可以添加过滤器,即只观察想观察的事件
-b size 指定收集trace缓存的大小,收集debugfs files的大小,并非文件系统读写时的缓存
-n num 指定收集trace的缓存个数,同上-b 。
-o output 指定输出文件名字,假设你的名字为name 输出文件为name.blktrce.cpu。若你有两个cpu,则生成两个文件。-o的缺省名字为设备名。见下:
-w time 指令运行秒数。-w 5 运行5秒
-k kill 杀掉正在运行的进程,-k后不需要加参数
其中-a 滤镜后跟的参数如下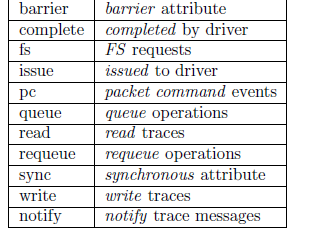 以下是别人的解释:

-A hex-mask			#设置过滤信息mask成十六进制mask
 -a mask			#添加mask到当前的过滤器
 -b size			#指定缓存大小for提取的结果,默认为512KB
 -d dev			#添加一个设备追踪
 -I file			#Adds the devices found in file as devices to trace
 -k			#杀掉正在运行的追踪
 -n num-sub			#指定缓冲池大小,默认为4个子缓冲区 
 -o file			#指定输出文件的名字
 -r rel-path			#指定的debugfs挂载点
 -V			#版本号 
 -w seconds			#设置运行的时间
3.测试实例
Usage: blktrace 2.0.0 -d <dev> [ -r debugfs path ] [ -o <output> ] [-k ] [ -w time ]
[ -a action ] [ -A action mask ] [ -I <devs file> ] [ -v ]
实例1:
由上面这个例子,得出:
1.结束测试ctrl+c
2.生成blktrace文件的缺省名字是由"设备名字+blktrace+cpu号"组成
实例2:
blktrace -d /dev/sda -k
故若要kill掉sda的blktrace则命令为
实例3:
blktrace -d /dev/sdb -w 10 -o blkt1
运行完毕后有两个输出文件分别是blkt1.blktrace.0和blkt1.blktrace.1。之所以有两个输出文件,这与运行系统cpu个数有关。这两个输出文件时二进制的,不能直接打开,需要如下指令转化为可读取文件
blkparse -i blkt1.blktrace.0 -o blkt1.txt
该指令含义就是解析blkt1.blktrace.0,生成可读取blkt1.txt文件
若将两条指令合并,则为如下形式、
blktrace -d /dev/sda -o - |blkparse -i - -o blkparse.out
实例4:
blktrace -d /dev/sda -o - |blkparse -i -
若检测结果希望直接显示在终端屏幕上,即以live形式检测。用上述指令
4 测试结果
通过blkparse解析文件如下:各个列的含义在第1,2,3行给出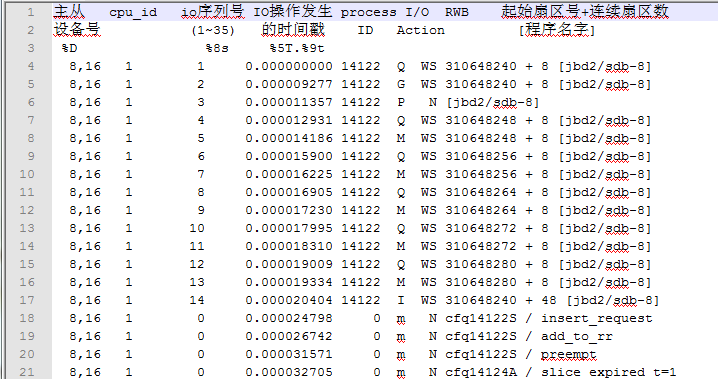 倒数第三列为action,该列不同字母的具体含义如下:
C – complete A previously issued request has been completed. The output will detail the sector and size of that request, as well as the success or failure of it.
D – issued A request that previously resided on the block layer queue or in the io scheduler has been sent to the driver.
I – inserted A request is being sent to the io scheduler for addition to the internal queue and later service by the driver. The request is fully formed at this time.
Q – queued This notes intent to queue io at the given location. No real requests exists yet.
B – bounced The data pages attached to this bio are not reachable by the hardware and must be bounced to a lower memory location. This causes a big slowdown in io performance, since the data must be copied to/from kernel buffers. Usually this can be fixed with using better hardware -either a better io controller, or a platform with an IOMMU.
m – message Text message generated via kernel call to blk add trace msg.
M – back merge A previously inserted request exists that ends on the boundary of where this io begins, so the io scheduler can merge them together.
F – front merge Same as the back merge, except this io ends where a previously inserted requests starts.
G – get request To send any type of request to a block device, a struct request container must be allocated first.
S – sleep No available request structures were available, so the issuer has to wait for one to be freed.
P – plug When io is queued to a previously empty block device queue, Linux will plug the queue in anticipation of future ios being added before this data is needed.
U – unplug Some request data already queued in the device, start sending requests to the driver. This may happen automatically if a timeout period has passed (see next entry) or if a number of requests have been added to the queue.
T – unplug due to timer If nobody requests the io that was queued after plugging the queue, Linux will automatically unplug it after a defined period has passed.
X – split On raid or device mapper setups, an incoming io may straddle a device or internal zone and needs to be chopped up into smaller pieces for service. This may indicate a performance problem due to a bad setup of that raid/dm device, but may also just be part of normal boundary conditions. dm is notably bad at this and will clone lots of io.
A – remap For stacked devices, incoming io is remapped to device below it in the io stack. The remap action details what exactly is being remapped to what.
倒数第二列含义如下:
This is a small string containing at least one character ('R' for read, 'W' for write, or 'D' for block discard operation), and optionally either a 'B' (for barrier operations) or 'S' (for synchronous operations).
即倒数第二列可以判断读、写or删除
另外B barrier operations
S 同步操作
5.blktrace附录:
1.对应官方文档3.1.2 节
blktrace区分两种形式的块层的请求。file system和scsi commands。前者是文件系统的请求,后者使pc请求。file system的请求为读写请求,比如说在一个指定磁盘的指定位置读取一定大小的内容。这些请求一般由用户程序产生,但有时也会由vm把脏数据写到磁盘或者文件系统同步超级快或者日志块到disk而产生。pc请求为SCSI命令。blktrace 将命令数据块作为负载,这样blkparse可以解析它。
2.对应官方文档4.1节
blkparse还有其他参数可供选择,如下,我对此没做深入研究,故没给出解释: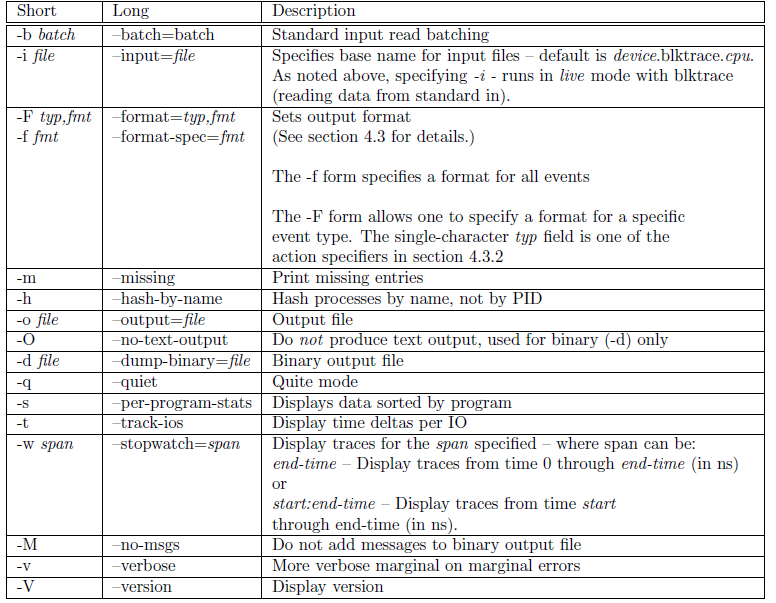 以上参数部分解释:
-b 一次性处理的大小,即解析成结果时一次性解析的大小,缺省值为512
3.今天运行时碰到了一下问题

问题的原因是,我运行的目录错了。我在虚拟机上通过v-box,挂在了一个与windows共享的文件夹,即 mount -t vboxsf V-box /home/share 。在home/share路径下运行时,blktrace会出错。